Why Metro Inventory Management System?

Unlock the power of efficient Inventory management with Metro ERP. Seamlessly track stock, streamline operations, and gain real-time insights to drive productivity. Maximize profitability and customer satisfaction with our intuitive and customizable system. Experience the beauty of streamlined inventory control with Metro ERP.

Warehouse Management

We offer a single platform, unified inventory, and database management. Because of the centralised approach to operations, we offer a single platform, unified database, & inventory management. You can s eamlessly manage inventory across multiple locations with our centralized warehouse management software, empowering efficient logistics and real-time inventory visibility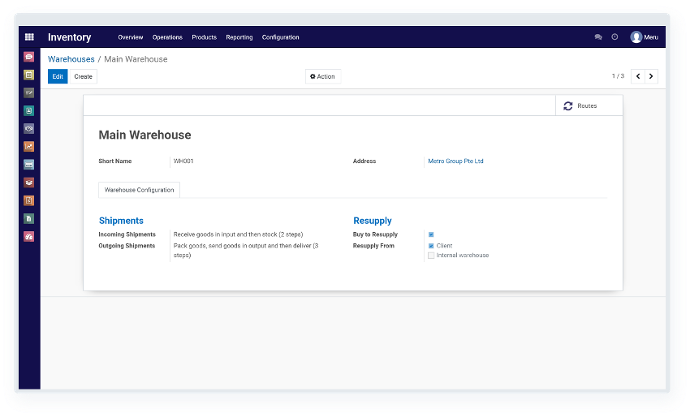 Multiple Warehouses

We offer a centralised warehouse inventory management system where you can manage multiple warehouses efficiently through one system. With our system, managing stocks at multiple warehouses is a cakewalk. We facilitates multi-warehouse to increase processing efficiency, stock in/stock out/stock take process.

Product Variant

The product variant concept will help you if you are having multiple variants of any product/s.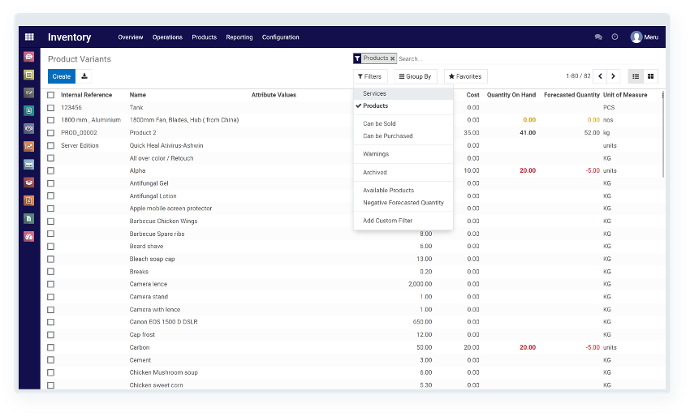 Less Processing Time

---
Complete complex operations in less lime with our inventory management system.

Improved Traceability

---
Get the history of every operation you performed very easily when you need it.
Customised Reporting

---
MetroERP facilitates customised and advanced reporting. It will help you to generate a customised report in various aspects.
Reordering Rules

---
Reordering rules will help you to ensure that there is sufficient stock in your inventory.
Routing System

---
The routing system in our inventory management will help you in multistep routes, initiate carrier and country of destination.
Delivery Management

---
MetroERP has an advanced delivery management system that will help you to ensure timely delivery of the products.
Explore the related modules


By integrating these modules will create a great combination for your ERP system
Metro

Sales Management




Create sales quotations, sales orders, delivery orders & invoices efficiently with the MetroERP sales management system.
Metro ​Purchase Management


Manage your vendor/supplier. Create a purchase quotation and a separate price list for your vendor. It is very easy.


More Info

Metro Invoicing Management


For any company, the smooth movement of goods and services is the most essential aspect as it's the core of business operations.


More Info

Maximize Operational Efficiency, Discover the Power of Metro ERP Inventory Management System! ​

"Efficient inventory management is crucial for success. Metro ERP optimizes processes, tracks stock in real-time, and streamlines operations. Centralized control sets reorder points, automates alerts, and improves order fulfillment. Accurate demand forecasting reduces costs and ensures stock availability. Integration eliminates errors, while warehouse management enhances efficiency. Reporting provides insights for data-driven decisions. Metro ERP boosts profitability."

FAQ's ​ ​

Still Unsure? Find Your Answers Here

How can Metro fit in your Business!!

Metro ERP solutions for thriving industries.