Why Metro Accounting System?

Metro ERP accounting software is designed to streamline financial processes and help businesses manage their financial transactions, track expenses, generate reports, and maintain accurate records. We offers numerous benefits, including efficient bookkeeping, automated invoicing, streamlined financial reporting, simplified tax management, improved cash flow monitoring, and better decision-making based on real-time financial data. Embrace the future of Accounting with Metro - your success awaits!
Customised Dashboard

A customised dashboard will help you in tracking your data and easy redirection. You can see all the relevant information you need on the screen with our accounting system which saves you precious time.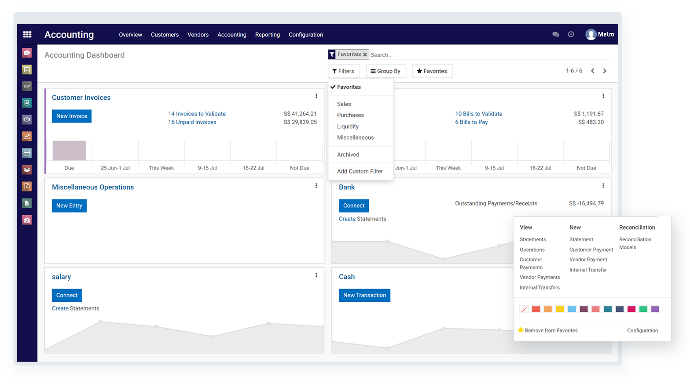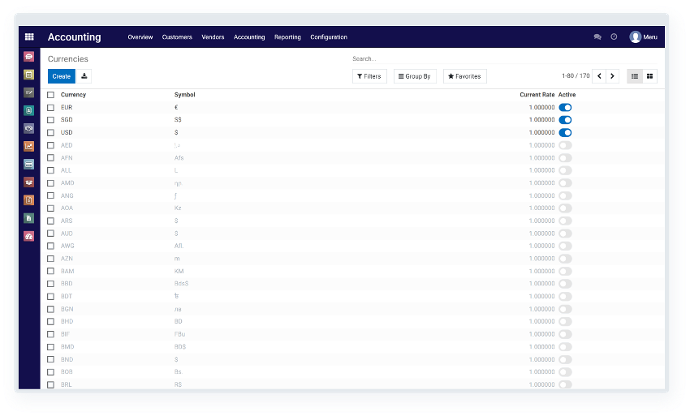 Supports Multi-Currency

Our accounting system solves problems while dealing with different types of currency. It has an integrated multi-currency facility. You can quickly figure out the conversion rate of different currencies in a fraction of a second.

Customised Reporting

In case of tracking and properly maintaining data, our solutions provides a fully customised reporting system that will help you to get accurate results. Our accounting system assures error-free reporting which makes it highly reliable.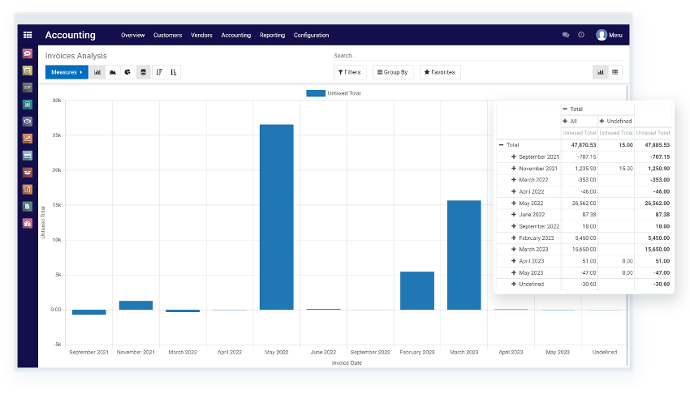 Time Saving Tools

---
We provide custom solutions which will help you save your time and effort which will increase efficiency and productivity.
Our accounting system helps you keep track of all your financial documents and retrieve any financial data quickly.
​Dynamic Statements

---
Our solutions also facilitates custom & dynamic statements as per your need.
Flexible and powerful reporting tool that helps businesses to manage financial data effectively and make informed decision.
Reconciliation

---
MetroERP bank reconciliation feature ensures that all the journal entries encoded are balanced properly.
Also has the ability to create and manage multiple bank accounts, making it a comprehensive tool for managing your finances.

Explore the related modules

By integrating these modules will create a great combination for your ERP system
Metro ​

Sales Management




Create sales quotations, sales orders, delivery orders & invoices efficiently with the MetroERP sales management system.
​Metro

Purchase Management




Manage your vendor/supplier. Create a purchase quotation and a separate price list for your vendor. It is very easy.


More Info

Metro Invoicing Management


For any company, the smooth movement of goods and services is the most essential aspect as it's the core of business operations.


More Info


Efficiency Unleashed: Streamline Your Business with our Advanced Accounting System! ​

Discover the power of seamless financial management with our cutting-edge accounting system, designed to revolutionize the way businesses handle their finances. Our feature-rich platform, akin to Metro but with even greater capabilities, empowers enterprises of all sizes to effortlessly manage accounting tasks, track expenses, handle invoicing, reconcile transactions, and generate insightful financial reports
FAQ's ​ ​

Still Unsure? Find Your Answers Here

How can Metro ERP accounting system benefit my business?
Metro ERP accounting software offers numerous benefits, including efficient bookkeeping, automated invoicing, streamlined financial reporting, simplified tax management, improved cash flow monitoring, and better decision-making based on real-time financial data.

What are the key features of Metro ERP accounting system?

Metro ERP accounting system offers a range of key features, including general ledger management, accounts payable and receivable, bank reconciliation, expense tracking, financial reporting, budgeting, and multi-currency support.

Is Metro ERP accounting system cloud-based or on-premises?

Metro ERP accounting system is cloud-based, which means you can access your financial data securely from anywhere with an internet connection. This offers flexibility, real-time collaboration, automatic backups, and eliminates the need for local hardware maintenance.

What level of customer support and assistance do you provide?
We pride ourselves on providing excellent customer support. Our dedicated support team is available to assist you with any inquiries, technical issues, or guidance you may need. We offer various support channels, including email, phone, and Whatsapp.

Does Metro ERP accounting system support online invoicing and payment processing?
Yes, Metro ERP accounting system supports online invoicing, allowing you to create professional-looking invoices and send them directly to clients. We are PEEPOL e-Invoicing ready. You can integrate e-Invoicing feature with our accounting system. You can also integrate payment gateways to enable secure online payment processing, improving cash flow and reducing manual follow-ups.

How can Metro fit in your Business!!

Metro ERP solutions for thriving industries.